Garages often have all that extra space that is seldom used. And sometimes it is not just extra space but the entire space of it. If you need extra space in your house at no additional cost, converting your garage is the simplest and most effective way.
And suppose you are planning on converting it to an extra bedroom. In that case, an office workspace, a study room, or simply a guest room, one of the main problems faced is that garages are not insulated, which translates to them being inhospitable. Therefore, you need to have your garage insulated.
Several options can be considered for the best garage door insulation you could have in your house. Radiant barrier, fiberglass, foam, and cellulose are just a few of the several garage door insulation kits available. And since the garage is one of the rooms in a house that might need more insulation, it's important to become familiar with the different kinds.
One of the best (and least expensive) ways to extend the comfortable use of your garage by a few more months is to add a garage door insulation kit.
Both new and old garage doors can have insulation added to them. It is simple to upgrade existing garage doors with insulation kits made of foam or reflecting barriers. The R-value of these kits typically ranges from R-2 to R-8. For even greater results, you can choose to replace your outdated garage door with a brand-new insulated garage door. R-values for modern insulated garage doors range from R-6 to R-19.
Insulating your garage door could prevent heat loss and raise the interior temperature of your garage by 10 to 12 degrees in the winter when combined with weatherstripping and insulation in other parts of your garage.
Foam
Spray foam and rigid foam, commonly referred to as foam core, are the two main types of foam garage door insulation.
The term "spray foam" refers to a foamy substance that is sprayed onto a garage door. Although inexpensive and simple, it's not the ideal solution for garage doors.
Styrofoam is used to create rigid foam or foam core. It is user-friendly, lightweight, and reasonably priced. Expanded polystyrene (EPS), extruded polystyrene (XPS), and polyisocyanurate are the three varieties of rigid foam used for garage door insulation (polyiso).
Cellulose
ConsCellulose is a low-thermal product constructed from organic materials like plant fiber; cotton, or wood, ce further safeguard; cellulose from fire; cellulose has a fire-resistant borate treatment. This insulation can also be made from recycled materials, including cardboard, office paper, old newspapers, and other paper goods.
In the same manner that spray foam insulation must be applied to the garage door panels, cellulose also works very well to keep the heat in the garage. Unfortunately, cellulose is also the most expensive form of garage door insulation kit, so DIYers on a tight budget might not have a choice in this.
Fiberglass
It is no surprise that fiberglass is frequently used to insulate homes due to its great impact on protecting the garage door. This dense, fibrous material has a high R-value, making it perfect for insulating garage doors, walls, floors, ceilings, and attics. (A material's thickness and density are what define the R-value. The better a substance insulates, the greater its R-value.) The main drawback to working with fiberglass is that it is messy and demands a lot of attention.
Radiant Barrier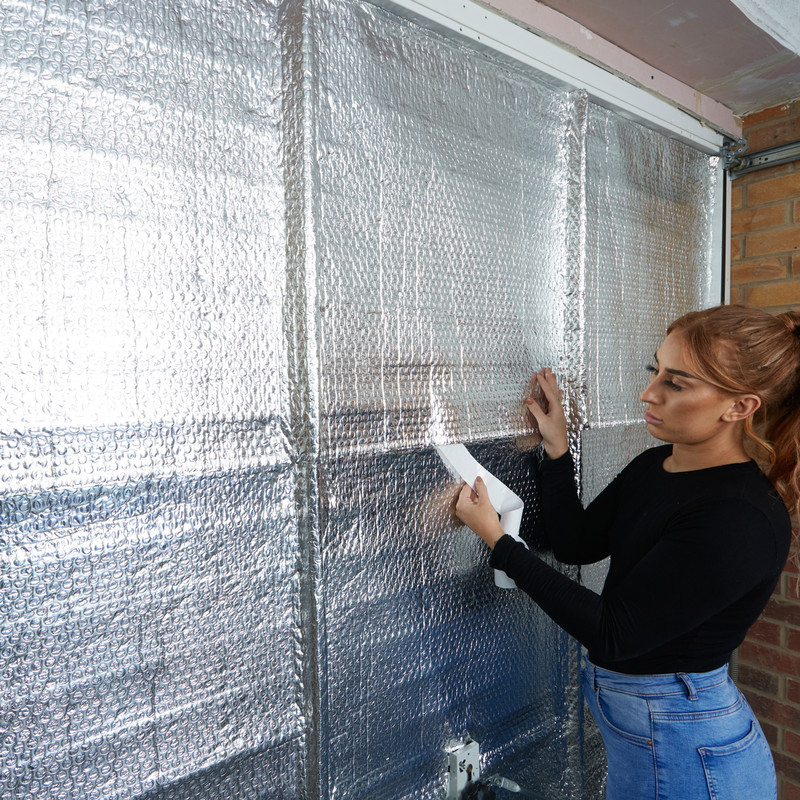 Radiant barriers are often built of highly reflective materials like aluminum and are affordable. Instead of absorbing luminous heat radiation as fiberglass insulation does, this garage door insulation kit is utilized to block it. In addition to an "air space" layer that could be formed of bubble wrap, it often has one or two layers of reflective material to act as a heat barrier. To keep the garage warm, this air gap layer forms a pocket that decreases the passage of both conductive and convective heat (spreading and containing heat).
Steel
Steel is the material that garage doors are made of most frequently. This is because it requires little care, is sturdy, and has a wide variety of design possibilities, so you can select one that complements the style of your current home. Additionally, it offers a good deal of insulation.
Wood
Although wood doesn't provide much insulation, many people choose wood garage doors, especially in colder climates. However, doing so will require you to add insulation, which is not helpful in this case.
Composite Wood
Like natural wood, composite wood doesn't offer much insulation. To make a double or triple-layer garage door, you can opt to layer composite wood above steel. This combines the traditional beauty of wood with the energy efficiency of a useful steel door.
Aluminum
Although aluminum is a viable option and lighter than steel, it doesn't offer much insulation. Therefore, making it preferable to the best garage door insulation for hot climates. This attic door insulation comes in handy in regions that run hot by nature.
Things To Consider
Weight
Both automatic and manual garage doors may have trouble operating if the insulation is too heavy. The simplest method to get around this problem is to use thin insulation that won't weigh down or interfere with the garage door. Keep in mind that adding insulation to an entry will also increase its weight. This becomes an important factor when attempting DIY garage door insulation.
Radiant barriers are substantially lighter, but fiberglass and rigid foam are simple to install and rarely have weight difficulties. If the insulation layers are excessively thick, spray foam and cellulose can easily become heavy. To avoid over-spraying the garage door, always use these insulating sprays cautiously.
Compatibility
Make sure the insulation kit you choose for your garage door is suitable for the door. For instance, some insulation packages call for installing metal channels along with the garage door support structure.
Look into the installation requirements and instructions for a garage door insulation kit before purchasing to prevent obtaining equiequipments inadvertently intended for a garage door of a different size or kind.
Good luck with insulating your garage door.